6 Most Common Reasons for Divorce … And How to Stop Them Happening to You!!
Get Your FREE 6-Day MiniCourse + Newsletter Series That Reveals Powerful Secrets on How to Avoid Divorce and Rebuild the Love in Your Marriage!
(A $27 Value – Yours FREE!)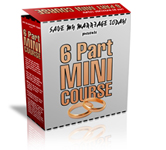 My Mini E-course includes:
The top six predictors of divorce. Be aware of the statistics so that you can confront them head-on!
The top six predictors of a long-lasting marriage. Are the odds in your favor?
What to do if the love is gone. You'll be astounded at this advice!
Growing Apart? How to Keep it from happening to you!
The dangers of being a workaholic, 25 relationship killers, affairs – how to spot them and prevent them from occuring, how to communicate better, and more…….
Here's what some of my subscribers have said:
"Thank you so much for your course. It has already helped me so much, you wouldn't believe it! You truly are a brilliant, brilliant woman!" — John Phillips (USA)
"Your advice for bringing back the love really works! I am amazed, I really needed this." — Paula Trent (USA)
"This is the best free advice I have EVER found on the internet! Period." — Elija Slade (Canada)
"I have recently subscribed to your 6 day e-course (I'm up to day 3) and I have to tell you, it is fantastic!" — Sarah Yates (Australia)
Get your copy of my free minicourse by signing up today! You'll receive your first lesson in 5 minutes!
Click the button below to sign up, or use the "FREE Minicourse" form at the top right.