YES Andrew! Please rush me my order for the Save My Marriage Today! Premium Home Study CourseINSTANT ACCESS + LIFETIME MEMBERSHIP as soon as possible, including all updates and new editions!
I understand that I will receive:
12-Part Premium Video Course. Watch online or download to my computer to watch any time! In this two-hour online program a team of experts discusses exactly what I should be worried about in my marriage, when a "problem" becomes a "crisis," and what I should do in detailed steps, whether I'm dealing with anger problems, conflicts over marital roles, balancing personal time with couple time, and more.
How to Change Your Partner from Addiction - Even When They Don't Want To! This course covers issues such as recognizing an addiction (whether it be drugs, alcohol, internet or gambling), addiction treatment, or getting enough from a relationship so that my emotional needs are also being met during this process. Broken into three half-hour segments, I will get the actual answers as called by the panel.
How to Save Your Marriage When Your Partner Has Cheated on You. Hosted by clinical psychologist Richard Wheeler, this 1-1/2 hour program will equip me with everything I need to know to identify infidelity, understand why it happened, and key issues and actions I need to do next.
How to Save Your Marriage from Money Problems. Not enough money? Too much money? Arguing over how money is spent? I'm going to find the answers to my money problems and delve into the deeper relationship issues with Andrew and the team.
How to Save Your Marriage When Your Partner Has Depression. Whether my marriage issues revolve around defining and recognizing depression in my partner, looking at ways of seeking treatment for depression sufferers, or creating a relationship that can recognize, talk about, and treat depression as a couple, I'm going to get valuable information about the best approach to depression from the team.
5 Study Guides. I'm going to build on what I have learned through reviewing the lessons in written form, opening discussion with my partner with the discussion guides, and completing the exercises. I'm going to take the information away from the screen and apply it to saving my marriage. I can refer back to key points – over and over again.
Bonus Audio Interview with Relationship Coaches Scot and Emily McKay. What is it like to live with a spouse with a mental illness? How can you diagnose and help your partner if you suspect they are suffering from mental illness? I will discover coping techniques for living with the uncertainty of my partner's illness and what it takes to rebuild my life again.
Bonus Audio Interview with Relationship Expert Mimi Tanner. What are the secrets to becoming the person your spouse cannot live without? How can you make your love the kind everyone dreams about? I will discover secrets and tools to keep my spouse interested in me forever as Mimi takes me through her top secrets to being happier, more fulfilled, and more in touch with each other than ever before.
Personal Advice and Help with a Members Consultation: Still unclear about how to approach my marital problem? Contact the Save My Marriage Today! Team for more specific advice tailored to my unique situation. The team's consultation can help steer my marriage in the right direction.

Finally, I understand that my Save My Marriage Today! Premium membership is fully covered by your personal, risk-free, no questions asked 8-week 100% money-back GUARANTEE! If I'm not satisfied for any reason, or it doesn't live up to my expectations, I won't be out one red cent. I can just send an email and I wil be refunded my payment. Right up to the final day of this 8 week guarantee.
I also understand that my card will be charged $199.95 $167.00 by Clickbank/Keynetics.
*** 60% DISCOUNT ***
Don't forget...
Discount Combo Offer
Get The Original Save My Marriage Today! e-Course for just $20
The Original Save My Marriage Today course contains so much valuable and applicable information about saving marriages, it's too good to miss out on!
Did you know that "hard work" on your relationship isn't always the answer? Learn how to change the momentum of your relationship fast!

Learn the specifics about how to deal with personal attacks. Find out the best response for dealing with an angry spouse.

Does your marriage require a marriage counselor? Find out how to get the best out of them so that they actually do help you build a stronger marriage.
Raising children? We teach you how to deal with parental responsibilities to make it enjoyable rather than a chore. You'll also learn what the various danger zones are, with regards to children and your marriage.
Over 30 Exercises to Get Your Marriage Back on Track! Do them yourself OR with your partner. They're uncomplicated, quick to do, and ... most importantly ... help you save your marriage!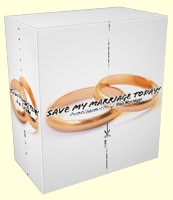 The original Save My Marriage Today course has been online since 2003 and has proven itself time and time again, saving literally thousands of marriages! This founding course contains loads of ground-breaking theory and techniques, as well as exercises to help apply the many marriage-saving tips and techniques to YOUR marriage. If your marriage is heading towards divorce, you must get this time-tested course and get all the answers to save your marriage. Thousands of others have gone before you and used this course to save their marriages and create a relationship success story like never before. Will you be next?
The original Save My Marriage Today 2 ebook + 5 bonus book package may be the deciding ingredient between your marriage ending in divorce or renewed stronger than before. Developed with the combined experience of the 000 Relationships Team, this course usually sells for $49.95.
But when you add Save My Marriage Today to your Save My Marriage Today Premium Home Study Course purchase, you'll receive a 61% Discount. That's right! That means you'll get Save My Marriage Today for just $49.95 $20.00.
If you need ALL the answers to ALL conceivable marriage problems and situations, this $20 might just be the best money you ever spent. Check the box above to claim your copy of the Save My Marriage Today package.
If you have any questions at all, don't hesitate to contact me, by clicking the contact link on the homepage.