Our Save Marriage Affiliate Program Now Pays75% Commission - Plus 50% Recurring!
Save My Marriage Today is One of the BEST Legitimate Affiliate Offers for Anyone with a Website Reltated to Marriage and Relationships
As a website owner or marketer, you know that affiliate marketing is one of the most effective ways to make money and give real value to your readers and subscribers. What really separates the good from the great is the quality of the product and how well it resonates with your list.
Save My Marriage Today is a company at the pinnacle of their field. We offer high quality products that change lives and marriages for the better, offer superior tracking, afterpurchase followup and customer support systems, and are passionate about delivering real marriage-saving results to spouses and couples in need.
Join our team. Share in the delight of saving marriages. And make some great money as a successful Save My Marriage Today affiliate!
5 Reasons to Join the Save My Marriage Today Affiliate Program Now!
| | |
| --- | --- |
| | You'll be promoting the most successful save marriage product on Clickbank! |
| | Earn HUGE recurring commissions, 75% on the front end and 50% on our recurring continuity offer (over 30% of people choose to join the recurring offer) |
| | High quality product and support. Customers receive comprehensive Save My Marriage Today ebook with exercises and action points, Book 2 for Couples in Extreme Crisis, Free Email Consultation, plus a host of other quality super bonus ebooks. Low refund rate! |
| | Very easy to promote - Comprehensive affiliate resources including pre-written emails, articles, product images and banners, review copies, swipe emails, customized promotional swipe, keywords, and much more! |
| | High converting product and great niche. Highly motivated buyers, lots of keyword phrases for PPC targetting etc. |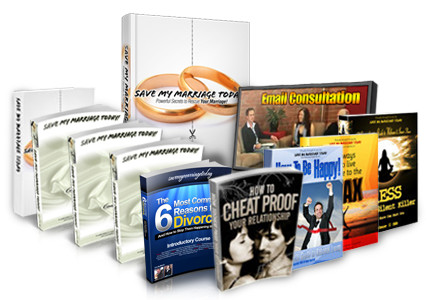 Sign up to our Save My Marriage Today Affiliate newsletter and keep up to date with any affiliate program developments. In addition, signing up to our affiliate newsletter will give you access to our resource pages, which are full of promotional material that you can use to become a Save My Marriage Today super affiliate!
We respect your privacy and will never divulge your email address to any third party